Sunset Beach NC Hotels & Resorts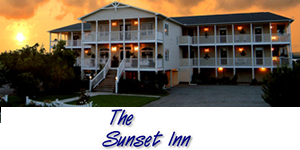 The Sunset Inn North Shore Dr. Sunset Beach, North Carolina 28468 The Sunset Inn is located just across the Causeway at Sunset Beach, North Carolina. Situated along the marsh at Sunset Beach, the Sunset Inn is just minutes away from great shopping. The immediate area affords you over 16 challenging golf courses and excellent dining. Comfortable and roomy with a relaxed atmosphere, our spacious coastal home awaits your arrival. Experience the Sunset Inn. It's the perfect way to begin your day. 910.575.1000 Email: info@thesunsetinn.net Web Site: https://www.thesunsetinn.net
——————————————————————————————
Sunset Beach NC Rental Houses and Condos
Sunset Vacations has the distinct privilege of managing some of the most comfortable and affordable vacation properties in today's market. We presently offer a broad spectrum of properties both in price and accommodations that are sure to suit every need from cozy mid-island cottages to luxurious oceanfront duplexes. The staff at Sunset Vacations and property owners share a timeless love for Sunset Beach and its capacity for rest, relaxation and enjoyment. We invite you to experience for yourself while allowing our professional staff to find the perfect accommodations for your stay at Sunset Beach. We trust that together we can help you plan that vacation long remembered, never forgotten. https://sunsetvacations.com Email: info@sunsetvacations.com  (800) 331 – 6428
Brunswick Plantation & Golf Resort
Condos and vacation rentals with style, comfort, and distinction located only a short distance from the heart of Myrtle Beach, yet close enough to all the excitement offered on the Grand Strand.
Brunswick Plantation & Golf Resort offers an elegant setting that exceeds local standards for luxury and style, while preserving the time-honored elegance and charm of the south. Three courses with 27 challenging holes are right outside your door, and there are over 100 golf courses in the Grand Strand area as well. Our indoor and outdoor swimming pools, jacuzzis, fitness center, and 19th Hole restaurant are tastefully woven into the tapestry of Brunswick Plantation, making for a memorable vacation with style and grace for your entire family or group. (800) 332-8576 or (910) 845-7000 For tee times call 1-800-848-0290 https://www.brunswickvillas.com
——————————————————————————————
Ocean Isle Beach Hotels & resorts
The Winds Resort Beach Club
A Tropical Escape Closer Than You Think!
The highest rated of Ocean Isle Beach Hotels, The Winds Resort Beach Club offers Oceanfront rooms and suites overlooking palm trees, lush tropical gardens and our breathtaking island beach. Also Four, Five and Six Bedroom Resort Cottages with full kitchen, living room and large whirlpool spa. Rates include complimentary Full Hot Breakfast Buffet & use of all amenities Three Pools (one indoor), Whirlpools etc. The oceanfront, poolside Tiki Bar features a light menu & mixed drinks.  310 E. 1st St, Ocean Isle Beach, NC 28469 1-800-334-3581 https://TheWinds.Com Email: Info@TheWinds.com
Click Here to View Live Beach Camera
#1 On TripAdvisor!
————————————————————-
57 West First St. Ocean Isle Beach, NC 28469
The Islander Inn offers new deluxe oceanfront accommodations with your choice of a king size or two queen size beds. Featuring a heated indoor pool, Jacuzzi and an outdoor pool with a spacious sundeck overlooking the sugar sand beaches of the Atlantic, offering year round family fun. A complimentary Continental breakfast is included.  1-888-325-4753
Email: info@islanderinn.com Web Site: https://www.islanderinn.com
——————————————————————————————
Ocean Isle Beach Rental Houses and Condos
Williamson Realty Providing Vacation Rentals in Ocean Isle Beach for over 40 years. A family business that specializes in renting individually owned cottages & condos, oceanfront to soundfront.A wide selection of vacation properties to choose from. Let us help you find that perfect vacation accommodation.Online booking available: williamsonrealtyvacations.com or give us a call 1-800-727-9222.
————————————————————-
McClure Realty, Ocean Isle BeachOcean Isle Beach Vacation Rentals by McClure Realty 24 Causeway drive, Ocean Isle Beach, NC 28469 1-800-332-5476 or 910-579-3586 Over 150 privately owned homes, cottages and condos on oceanfront, canal or mid-island.Off-season discounts available. 1 bedroom to 8 bedroom. Weekly and nightly rentals. Free rental brochure.Visit our website: mcclurerealtyvacations.com Email: ncmcclure@atmc.net –
————————————————————-
The Winds Resort Cottages Four, five and six bedroom Beach Cottages: Each with full kitchen, dining area, central A/C and heat, cable TV, washer & dryer, a large porch. Each bedroom has private bath, private balcony, cableTV, sitting area, microwave, wet bar with refrigerator.Just steps from the beach, between the ocean and the marsh, these cottages offer direct access to the beach and use of all Winds' facilities including three pools (one indoor), whirlpools, shuffleboard, beach volleyball beach chairs and rental bicycles. Rates include complimentary hot breakfast buffet. OCEANFRONT, pool side Tiki Bar both features a light menu & mixed drinks.View Live Beach Camera  310 E. 1st St, Ocean Isle Beach, NC 28469 https://TheWinds.Com  Email: Info@TheWinds.com  (800) 334-3581
——————————————————————————————
Holden Beach Rental Houses and Condos
Bru
nswickland Realty Unwind from the cares of your world, allow the Atlantic Ocean to take you to a world where the days begin and end with breath taking sunrises and sunsets.  Brunswickland Realty specializes in making this a reality with numerous vacation rental properties on one of NC's barrier islands. Over 100 Holden Beach properties to choose from – these rental properties come in all sizes & shapes, made to accommodate each and every need – all with the same breathtaking sunrises & sunsets.  Choose oceanfront homes, island & canal cottages or waterway properties.  We offer the best of Holden Beach.
All are well maintained & clean, ensuring an unforgettable beach getaway.  Search properties based on your desired amenities for a  relaxing stay.  Fishing docks, pools, hot tubs, internet, pet friendly & many more amenities available to help make your time at Holden Beach a true time of renewal. 1-800-842-6949 910/842-6949 1-800-842-6949 910/842-6949 brland@atmc.net  /   https://www.brunswicklandrealty.com
——————————————————————————————
Wrightsville Beach Hotels, Motels & Resorts
Blockade Runner
Vacation on the Water. We're on the water in more ways than one. We surf, SUP, sail, kayak, fish and when we simply want to relax we take the boat out for a cruise. As the only NC property with viable beaches Surf to Sound, the Blockade Runner Beach Resort offers a vacation like nowhere else. We're a proud-standing landmark in Wrightsville Beach built on family tradition. With almost 50 years under our belts, we've seen families grow year after year just as we transform within our walls. We host spirited events like the NC Holiday Flotilla and entertain new customs like the NC Surf to Sound Challenge. At Blockade Runner, the grass is a little greener, the sky is a little brighter and the ocean is so close it whispers in your ear. www.blockade-runner.com