As our nation prepares to celebrate the 243rd anniversary of its independence, locals are preparing for their fourth of July celebrations as well.
Of course, you can always have a good old-fashioned cookout in your backyard to celebrate our nation's birthday, but if you're looking for a bigger shindig then we've got some ideas on where you can go to celebrate July 4th:
Fourth of July Celebrations along the NC Coast:
Brunswick Islands – Southern Coast
Ocean Isle Beach, NC
We all love Independence Day at Ocean Isle Beach every year, but you have something else to look forward to this year! A fireworks display will take place from the Ocean Isle Beach Pier on Wednesday, July 3rd at approximately 9 PM.
The fireworks display will last approximately 20 minutes. Viewers will be able to the display from the pier, the beach, or anywhere on the Island.
The annual 4th of July parade will take place on Thursday, July 4th featuring decorated golf carts and bicycles will begin at 10 am. Participants should meet in the parking lot of the Museum Planetarium at 9:15. The parade will head down second street down to Lee Street. With all these great activities planned, Ocean Isle Beach will be the place to be this Independence Day!
For more info visit OceanIsleBeach.com
Sunset Beach, NC
Start the holiday right with a parade over the Old Bridge!
On July 4th beginning at 9:00 a.m. children (and adults) are encouraged to bring their decorated bicycles, wagons, strollers or sneakers to ride or march across the Old Bridge in step to the rousing patriotic music. This parade is a perfect photo opportunity for grandparents and parents to capture the children in all of their red, white, and blue splendor.
There will light refreshments, activities, and games for the children. For many familiar with Sunset Beach and the Old Bridge, the parade over the Old Bridge on the Fourth of July has become a family tradition. So plan to start Independence Day 2019 at the Old Bridge in Sunset Beach, 109 Shoreline Drive West, Sunset Beach!
For more info visit SunsetNC.com
Southport, NC 
For over 200 years, Southport has celebrated our nation's Independence in a big way, and they invite you to join the celebration! The city of Southport first celebrated our nation's independence in 1792 as the "Festival of Free Men," and continued the celebrations for two centuries, when the festival incorporated as the N.C. 4th of July Festival in 1972. Today, the festival remembers the sacrifices, celebrates freedom, and promotes family fun.
The N.C. 4th of July Festival is held annually in the City of Southport.  Join the over 50,000 people who attend the N.C. 4th of July Festival each year.  Annual festival events include: Reading of the Declaration of Independence, Military Band Concert, Naturalization Ceremony, Flag Raising Ceremony, Flag Retirement Ceremony, Veteran's Recognition Ceremony, Fire Fighter's Freedom Competition, over 100 arts & craft booths, food vendors, parade, children's games and entertainment, live stage entertainment, and fireworks. Visit Franklin Square Art Gallery's National Art Show, Shine & Show's Classic Car Show, voter registration, Old Jail tours, Lions Club Boat raffle drawing, Cape Fear Yacht Club's Commodore Regatta, St. Philip Church's self-guided tours, Old Smithville Cemetery tours, a pancake breakfast, and more.
There will also be the annual Beach Day Events on Oak Island.  For updated and detailed festival information, please visit: TownofSouthportNC.com
Oak Island, NC
Join Oak Island Parks & Recreation as we celebrate Beach Day on Monday, July 1st, 2019 from 8 am to 8 pm! Serving as part of the NC Fourth of July Festival, this community-wide event will have island residents and guests celebrating all that coastal living has to offer!
Take part in food, shopping, live music, and youth activities (inflatables, games, and rides, etc.) at Middleton Park before making your way to the Cabana area to sign up of various tournaments for classic beach games. Mark your calendars, and call your friends, because the beach is waiting to make this your best summer ever!
For more info visit: Oak-IslandNC.com
Bald Head Island, NC
Join Old Baldy Lighthouse on July 4th, at 10 am for one of Bald Head Island's most beloved events- the 4th of July Golf Cart Parade!
Dress your golf cart up in one of the following categories: Patriotic, Tacky Tourist, and Anything BHI! The only limitation is your imagination!
For more info visit: townofbaldheadisland.com
Wilmington Area
City of Wilmington Fourth of July Celebration
The City of Wilmington's 4th of July Celebration invites everyone to shop and dine in downtown Wilmington. Then gather around the Riverwalk to watch the fireworks display beginning at 9:05 pm. For more information including parking and traffic information please visit the city's website
Time: 

6:00 PM – 10:00 PM | Fireworks: 9:05 PM

Price: 

Free for spectators
Topsail Area
Camp Lejeune July 4th Celebration

July 4, 2018, 3:00pm – End of Fireworks:
Camp Lejeune has a longstanding tradition celebrating America's birthday! This year's event will once again feature a breathtaking fireworks display, kicked off with some great musical entertainment! There are a few important changes to note.
Attendees: This year's event will be open to DoD Identification Cardholders and their guests only. The event will not be open to the general public, meaning base access will not be provided to unsponsored guests for the event.
New Location: This year's celebration will be held at Onslow Beach, aboard Camp Lejeune. Parking will be provided on the land side of the bridge in the Gun Position-13 area. We ask that attendees minimize their footprint and carpool with their family and friends. There will be a shuttle to get you closer to the festivities.
This year the featured musical entertainment is singer-songwriter, and US Marine, Colonel Mike Corrado, currently stationed at Camp Lejeune! He and his band will set the tone for the big show.
Inclement Weather: In case of inclement weather on July 4, the event, including the fireworks, will be canceled and will not be rescheduled.
As a last note, lodging opportunities at Onslow Beach are completely booked through the end of August, so plan on joining us just for the day.
Where: Onslow Beach, Camp Lejeune, North Carolina
When: July 4th, 2019 – Music 7PM – Fireworks 9PM
Crystal Coast – Central Coast
Downtown Morehead City, NC
July 4, 2019 | 7:00 pm-10:00 pm
The Main Event Band will perform from 7pm-10pm with a free concert in Jaycee Park, 807 Shepard Street. The Main Event Band is the ultimate party band performing R&B, Soul, Beach, Country, and Funk and their performances also include music styles from the 80's and 90's as well as your favorite songs of today. Featuring top-notch vocals, a tight rhythm section, and one of the best horn sections around, The Main Event Band offers a quality performance that is hard to rival.  For more information, go to www.themaineventband.com .  This concert is hosted by the Morehead City Parks and Recreation Department and the Town of Morehead City.
At 9 pm, the music fades and the sky explodes with the Morehead City Fireworks display.  Every year, this spectacular show is shot off from across the water on Sugarloaf Island bringing the audience so close to the action, it is almost like being underneath the bursts of light and noise.  The fireworks display is sponsored by the Town of Morehead City and hosted by Downtown Morehead City, Inc.
Atlantic Beach, NC
105 Atlantic Blvd, Atlantic Beach, NC
July 4, 2019 | 9:00 pm-10:00 pm
Join us at the Circle in Atlantic Beach on July 4th for Fireworks at 9:00pm. Robert McDuffy will be performing Live Music before the fireworks from 7:00-9:00pm.
Paid parking ends at 6:00 p.m. so parking will be FREE!
4th of July Fireworks Cruise
July 4, 2019 | 7:30 pm-9:30 pm
Skip the crowds on shore and bring your friends and family aboard for an unforgettable fireworks display with incredible water views. Take a beautiful scenic cruise aboard one of our 49-passenger catamarans and enjoy a spectacular water view fireworks display on the Morehead City Waterfront. The cruise runs from 7:30 – 9:30 p.m.
Please call us or go to their website to reserve your spot now!
Outer Banks – Northern Coast
Town of Duck 4th of July Parade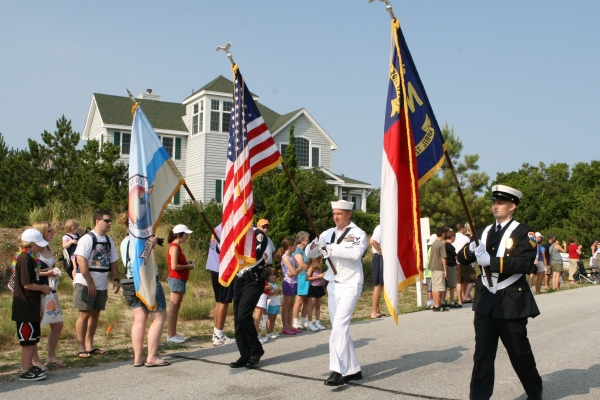 Kick off your Independence Day with one of the locals' favorite traditions, the Town of Duck 4th of July Parade. Named one of the country's top ten small-town 4th of July celebrations, this parade attracts visitors from as far as Hatteras to as close as down the street. The parade begins at 9 a.m. and works its way through downtown Duck along Scarborough Lane to Ocean Way to the finishing point on Pamela Court. Get there early to secure your spot along the route. Join the Duck community afterwards at Duck Town Park to listen to the live bands jam out, sip on refreshing and icy beverages and watch the awards ceremony for the parade's participants. This event is free and open to the public.
Independence Day Celebration in Corolla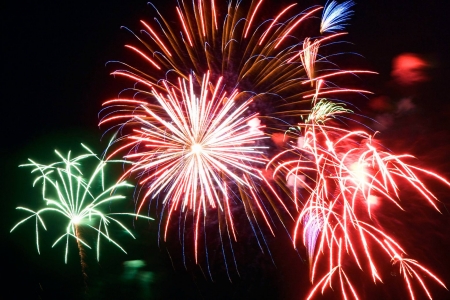 If you're already on the north side of the Outer Banks for the Duck parade, check out Corolla's Independence Day Celebration next. For the 26th year Corolla offers an afternoon filled with Fourth of July fun. Show off your summertime skillset at the watermelon eating contest and the cornhole tournament. Kids will enjoy the outdoor games. Live music fills the air starting at 5 p.m., and as soon as it's finally dark enough, turn your eyes skyward for fireworks. The numerous local food vendors will keep you fueled throughout the day. This Outer Banks event begins at noon and lasts until 9 p.m. There's no charge to attend or park, though parking spaces may be limited so feel encouraged to carpool, walk or bike.
Manteo Fourth of July Celebration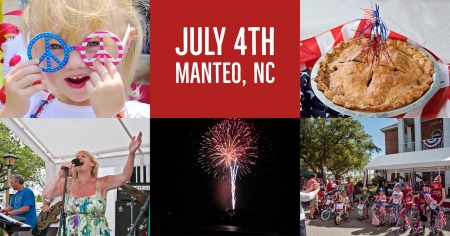 Fourth of July Fun in Manteo!
Music, contests, and fireworks are coming to downtown Manteo for the 4th of July. The fun starts at 3:00 on the Courthouse Stage with music featuring The Lost Colony Choir. Competitions start at 3:30 for the Wacky Hat Contest, the Decorated Bike Contest, and the Apple Pie Contest. At 4:15, the Songs From The Road Band will be playing bluegrass and more, including songs from their new chart-topping album.
Action moves to the Boathouse Stage at 6:30 with folk rock act DRIVIN N CRYIN playing music spanning their 30-year career, including ten albums and a gold record. Fireworks over the water will be a sight to see, and they will start after dark around 9:30. Come for the Gathering — Stay for the Celebration!
Phone: (252) 473-2133    Time: 3:00 PM to 10:00 PM      Price: Free admission
Roanoke Island Festival Park
Roanoke Island Festival Park is hosting a free Independence Day concert this Fourth of July featuring SNAP. Kick back and enjoy listening to classic hits and top 40 tunes on the pavilion lawn beginning at 8 pm. Following the concert, watch the Town of Manteo's fireworks show over the water at dark.
Gates will open to the public at 6 pm and on-site parking will be available on a first come, first serve basis. The celebration will begin with a performance from SNAP starting at 8:00 pm. SNAP is a powerhouse trio that moves seamlessly from crooning classics, R&B, Motown, oldies and beach music to classic rock and country.
Concessions from OBX Sunset Slush and Fourth of July themed merchandise from the Museum Store will be available on-site. Guests are encouraged to bring a chair, blanket or tarp to sit and enjoy the show. Those traveling by bike are asked to walk their bike into the pavilion grounds. For everyone's safety, dogs, umbrellas, tents, personal fireworks, sparklers are not allowed.
Phone: 252-475-1500   Time: 8:00 PM to 10:00 PM   Price: Free to the Public
Roanoke Island Festival Park
1 Festival Park
Manteo, NC 27954
July 4, 2019
Outer Banks Fireworks
No Fourth of July would be complete without fireworks to finish off the evening. Luckily, spending the holiday on the Outer Banks means you have numerous displays just around the corner. Here's the whole round up of Outer Banks Fireworks displays. The fireworks can be seen from miles away so you don't have to be right at the epicenter of the action to enjoy them.
Corolla – Whalehead Club
Corolla Festival of Fireworks July 4th, 2019 from 3pm – 9pm
26th Annual Festival of Fireworks
Historic Corolla Park sponsored by Currituck Travel and Tourism
JULY 4th FIREWORKS DISPLAY IN COROLLA – What better way to celebrate America's independence than with free live music and a spectacular fireworks show on the northern Outer Banks! The Annual Independence Day Celebration in Corolla offers an afternoon of fun family activities. The event features food vendors, a cornhole tournament, watermelon eating contest, and children's games. Admission and parking are free; event starts at 3:00 p.m. with a firework display at dusk. Sponsored by Currituck Outer Banks Travel & Tourism. Call 252-435-2947 or visit www.VisitCurrituck.com/Events for details. Event location: Historic Corolla Park, 1100 Club Road, Corolla.
Note: No alcohol or on-street parking permitted. Historic Corolla Park boat ramp is closed; no docking on July 4th.
More Information: http://www.whaleheadclub.org/
Phone: 252.453.9040 Email: info@visitwhalehead.com
Kill Devil Hills – Avalon Pier
Town of Kill Devil Hills will celebrate the 4th of July with a fireworks show at 8:00pm on July 4th, 2019 on the Avalon Fishing Pier located at Mile Post 6 on the beach road.
The Town of Kill Devil Hills happily welcomes Pyrotechnico, an award-winning fireworks company from New Castle, PA, to the local shoreline for an incredible show that visitors won't want to miss. Avalon Pier associates are equally enthusiastic about hosting this year's fireworks celebration.
Visitors won't be able to watch the show from the pier itself, but the wide and surrounding beaches are ideal for pulling up a chair and enjoying the show. The public is welcome to bring a chair, blanket, or beach towel and find a spot. Note that parking may be limited, so arrive early! A rain date will be set in case of inclement weather, and town parking is free to the public, with multiple beach access points throughout the town, and walking-distance close to the oceanfront.
Nags Head – Ocean Pier Milepost 11.5
The Town of Nags Head will host The Annual Independence Day Fireworks Spectacular on July 4th, 2019 at 9:25 pm at the Ocean Pier located at Mile Post 11.5 on NC Route 12, S. Virginia Dare Trail in Nags Head. The rain date is set for July 5th.
Parking at and near the fireworks display site will be directed by the Nags Head Police Department. Those attending the show are encouraged to park west of U.S. Highway 158/S. Croatan Highway. Those choosing to park west of U.S. Highway 158/S. Croatan Highway should use extreme caution while attempting to cross this heavily traveled roadway.
All persons attending this event are reminded not to use or block private driveways. Vehicles blocking driveways or presenting a traffic hazard before, during, or immediately following this event will be towed. The Town of Nags Head requests that persons use the public beach accesses as pathways to the oceanfront. Please stay off the environmentally sensitive dune and do not use the private property of others, such as private gazebos or decks, to view the fireworks without the property owner's permission.
No vehicles, with the exception of authorized Town and emergency vehicles, will be allowed on the oceanfront beaches.
The following public beach accesses are recommended for access to the beach for fireworks viewing:
South of Nags Head Pier
Curlew Street
Hollowell Street
Conch Street
North of Nags Head Pier
Bladen Street
Bittern Street
Bonnett Street
Barnes Street
Blackman Street
Jockey's Ridge State Park is another ideal spot for viewing the fireworks. Other local fireworks may be seen but distantly. The park will be open late July 4th to accommodate visitors. Please call the park at 252-441-7132 for more information.
Manteo – Manteo Waterfront
Town of Manteo 4th of July Celebration: July 4th, 2019 at 9:30 pm Budleigh Street, Manteo, NC 27954
Phone: 252-473-2133 Celebrate Independence Day with small town flair at the Town of Manteo 4th of July celebration. Participate in wacky hat contest, decorated bike contest, apple pie contest and so much more. Music will be provided during the afternoon and evening by Martin Terry, Echoes of Heritage, Old Enough to Know Better, and the Lost Colony Choir, and the National Anthem will be sung by Megan Glover. Then after the sun goes down take in one of the best fireworks shows on the Outer Banks. The rain date is July 5th. For more information call the Town of Manteo at 252-473-2133 or visit townofmanteo.com
Search South Nags Head Rentals
Other Events
Duck – Town Of Duck Parade
The 14th Annual Town of Duck 4th of July Parade is scheduled for Wednesday, July 4th, 2019 at 9:00 a.m., immediately followed by the Community Celebration at Duck Town Park, 1200 Duck Road. Keep an eye out for the Beach Realty van in the parade this year!
Immediately following the parade, join us at the Duck Town Park, 1200 Duck Road, for live music, cold refreshments and the awarding of the parade trophies! The one-mile parade route is the same annually and begins at the crest of the hill on Scarborough Lane. The route follows Scarborough Lane towards the ocean, turns left onto Ocean Way, and then heads down Christopher Drive ending at Duck Road (NC 12). No part of the parade takes place on Duck Road (NC 12). For more information or to register to participate, visit the town of Duck's website or call 252.255.1286 for more information.
More Information: http://www.townofduck.com/duck4th/
Manteo
July 4th Concert on the Pavilion: Presented by the 208th Army Band
Visit Roanoke Island Festival Park this 4th of July for a free Independence Day concert starring the 208th Army Reserve Band. Enjoy patriotic tunes and concessions from local vendors. Gates open at 6 pm and the concert begins at 8 pm. After the show, kick back and enjoy a perfect view of the Town of Manteo's fireworks show at dusk. For more information, visit https://www.roanokeisland.com/events.
Roanoke Island Festival Park's July 4th Kids Show
Bring the kids out for a fun 4th of July performance from the 208th Army Band. This free show takes place in the indoor theater at Festival Park and allows kids to learn more about the band's instruments and enjoy singing and dancing along to popular patriotic tunes. Pick up a free ticket from the ticket sales venue to reserve your seat. Doors open at 10:00 am and the show begins at 10:30 am.