As our nation prepares to celebrate the 242nd anniversary of its independence, locals are preparing for their fourth of July celebrations as well.
Of course, you can always have a good old-fashioned cookout in your backyard to celebrate our nation's birthday, but if you're looking for a bigger shindig then we've got some ideas on where you can go to celebrate July 4th:
Fourth of July Celebrations along the NC Coast:
Brunswick Islands – Southern Coast
Ocean Isle Beach, NC
We all love the July 4th  at Ocean Isle Beach every year, but you have something else to look forward to this year! A fireworks display will take place from the Ocean Isle Beach Pier on July 3rd at approximately 9 PM.
The fireworks display will last approximately 20 minutes. Viewers will be able to the display from the pier, the beach, or anywhere on the Island.
The annual 4th of July parade will take place on Wednesday, July 4th featuring decorated golf carts and bicycles will begin at 10 am. Participants should meet in the parking lot of the Museum Planetarium at 9:15. The parade will head down second street down to Lee Street. With all these great activities planned, Ocean Isle Beach will be the place to be this Independence Day!
For more info visit OceanIsleBeach.com
Sunset Beach, NC
Start the holiday right with a parade over the Old Bridge!
On July 3rd at 6 pm volunteers from the Old Bridge Preservation Society have planned stations with games and activities. There will be a concert by Linda Ladrick, accompanied by Kathryn Parker as well as patriotic songs, Broadway hits, and Disney songs for the kids too. Make sure to bring a chair and wear red, white and blue!
Then on July 4th beginning at 9:00 a.m. children (and adults) are encouraged to bring their decorated bicycles, wagons, strollers or sneakers to ride or march across the Old Bridge in step to the rousing patriotic music. This parade is a perfect photo opportunity for grandparents and parents to capture the children in all of their red, white, and blue splendor.
For many familiar with Sunset Beach and the Old Bridge, the parade over the Old Bridge on the Fourth of July has become a family tradition. So plan to start Independence Day 2018 at the Old Bridge in Sunset Beach, 109 Shoreline Drive West, Sunset Beach!
For more info visit SunsetNC.com
Calabash NC
Celebrate Independence Day in Calabash with a fireworks show on Wednesday, July 4th, 2018. Festivities will begin around 5:00 p.m. on the waterfront with food, ice cream, games, a dunk tank, basket raffle, boat raffle, family fun, live music, and more. Fireworks will begin at about 9:15 p.m.
Southport, NC
The patriotic spirit of America is alive and well in the City of Southport. For over 200 years, Southport has celebrated our nation's independence in a big way and we invite you to join the celebrations! Southport first celebrated our nation's independence in 1792 as the "Festival of Free Men" and continued the celebrations for two centuries. The festival incorporated as the N.C. 4th of July Festival in 1972.
Festival events include: reading of the Declaration of Independence, military band concert, naturalization ceremony, veterans' recognition ceremony, firefighters' freedom competition, 9/11 Never Forget mobile exhibit, over 100 arts & crafts booths, food vendors, parade, children's games and entertainment, live stage entertainment, art show, classic car show, sailing regatta, historic tours and more.
On July 4, the festival parade begins at 11 am and fireworks will take place at 9 pm over the Southport waterfront.
The festival goes from July 1st through July 4th, and admission is free.
For more information contact Southport-Oak Island Area Chamber of Commerce or visit www.nc4thofjuly.com
For more info visit: TownofSouthportNC.com
Oak Island, NC
Join Oak Island Parks & Recreation to celebrate Beach Day on June 30th, 2018 from 8 am to 8 pm! Serving as part of the NC Fourth of July Festival, this community-wide event will have island residents and guests celebrating all that coastal living has to offer!
Take part in food, shopping, live music, and youth activities (inflatables, games, and rides, etc.) at Middleton Park before making your way to the Cabana area to sign up of various tournaments for classic beach games. Mark your calendars, and call your friends, because the beach is waiting to make this your best summer ever!
For more info visit: Oak-IslandNC.com
Wilmington Area
Celebrate Independence Day early with a special display of free fireworks and free concert by L Shape Lot by the sea.  Enjoy the popular sounds of a mix of  Americana, Newgrass and Roots Rock for a uniquely upbeat and toe-tapping sound that instantly grabs your attention.  Be sure to arrive early to grab your spot at the gazebo or on the beach to enjoy free entertainment and fireworks by the sea. Weather permitting and schedule is subject to change without notice.  Please check their Website and Social Media for the latest updates.
Time: 

Entertainment: 6:30 PM | Fireworks: 9:00 PM

Price: 

Free for Spectators
City of Wilmington Fourth of July Celebration
The City of Wilmington's 4th of July Celebration featuring Independence Day Fireworks and  live entertainment and food vendors in beautiful historic downtown Wilmington. The fireworks display will begin at 9:05 pm. Spend a night to remember with the whole family.  For more information including parking and traffic information please visit the city's website.
Time: 

6:00 PM – 10:00 PM | Fireworks: 9:05 PM

Price: 

Free for spectators
Topsail Area
Camp Lejeune July 4th Celebration

July 4, 2018, 3:00pm – End of Fireworks:
Country superstar, Cole Swindell headlines this year's celebration which includes a FREE concert from a lineup of great entertainment, plus the area's best fireworks display.
This year's concert features performances by:
Cole Swindell – An American country music singer and songwriter. He has released nine singles, of which seven have charted within the Top 5 of Hot Country Songs.
Tyler Farr – An American country music singer and songwriter with an affinity for hard country and honky-tonk.
Lindsay Ell – A mixture of rock, blues, and pop, all within the country genre.
Carlton Zeus – A Hip Hop artist and US Air Force Veteran.
Ha Ha Tonka – Their sound is described as folky indie rock; Southern rock; and Ozark-steeped-blues-rock which showcases raw power and four-part harmonies.
The evening will culminate with the most spectacular fireworks display in the area.
The July 4th Celebration is a FREE (general admission lawn seating) and open to the public event. Want to upgrade your experience? Premium seating is available and may be purchased at http://www.basefest.com. Click on the Camp Lejeune event and purchase your premium seating tickets.
In case of inclement weather, only the fireworks will be rescheduled for July 5 at 8:30 PM. This event will NOT be open to the general public. Please note that on this date, Holcomb Blvd. will close to traffic at 8 PM. Shuttle transportation will not be provided.
Crystal Coast – Central Coast
Beaufort's Fourth of July Fireworks
Join the party! Beaufort will turn red, white and blue this Saturday, July 4th, to celebrate the nations independence.
Parade & Ice Cream Social
Come out for the annual July 4th parade at 11 am, or – even better – join it! Call Martha by July 3 at 252-728-3917 to grab your spot. After the parade, enjoy free ice cream at the County Courthouse on the corner of Turner St. and Hwy 70. Thanks to the Holland Group with Keller Williams Realty for sponsoring this sweet treat.
Fireworks
Head to Gallant's Channel and watch at the skies light up over Beaufort! The show starts at 9 pm, but be sure to get there earlier to grab a prime patch of grass. The Beaufort Fire Dept. will be selling Shaved Ice to raise money for the department. Parking is available on site, or you can catch the trolley from Front Street Village at 7 pm. Trolley's return after the fireworks are done. No coolers please. A big thanks to Front Street Village for sponsoring!
Beaufort July 4th is hosted by the Downtown Beaufort Development Association and sponsored by Front Street Village along with The Holland Group with Keller Williams Realty and the Town of Beaufort.
Emerald Isle, NC 4th of July Fireworks Off the Pier

The Town will again present fireworks off Bogue Inlet Pier beginning at 9 pm on Wednesday, July 4th.  Parking will be available at Bogue Inlet Pier as well as along NC 58.  The fireworks will also be visible from Bogue Sound and the Atlantic Intracoastal Waterway.
9:00 PM
Bogue Inlet Pier, Bogue Inlet Drive, Emerald Isle, NC 28594
Outer Banks – Northern Coast
Town of Duck 4th of July Parade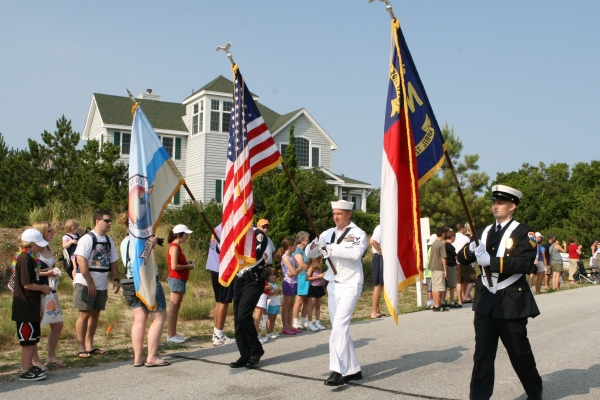 Kick off your Independence Day with one of the locals' favorite traditions, the Town of Duck 4th of July Parade. Named one of the country's top ten small-town 4th of July celebrations, this parade attracts visitors from as far as Hatteras to as close as down the street. The parade begins at 9 a.m. and works its way through downtown Duck along Scarborough Lane to Ocean Way to the finishing point on Pamela Court. Get there early to secure your spot along the route. Join the Duck community afterwards at Duck Town Park to listen to the live bands jam out, sip on refreshing and icy beverages and watch the awards ceremony for the parade's participants. This event is free and open to the public.
Independence Day Celebration in Corolla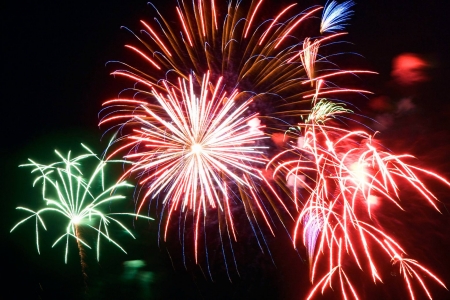 If you're already on the north side of the Outer Banks for the Duck parade, check out Corolla's Independence Day Celebration next. For the 25th year Corolla offers an afternoon filled with Fourth of July fun. Show off your summertime skillset at the watermelon eating contest and the cornhole tournament. Kids will enjoy the outdoor games. Live music fills the air starting at 5 p.m., and as soon as it's finally dark enough, turn your eyes skyward for fireworks. The numerous local food vendors will keep you fueled throughout the day. This Outer Banks event begins at noon and lasts until 9 p.m. There's no charge to attend or park, though parking spaces may be limited so feel encouraged to carpool, walk or bike.
Manteo Fourth of July Celebration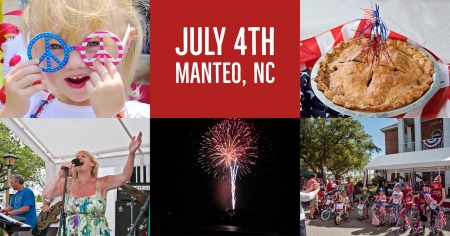 For a quintessential taste of Americana with a classic small-town festival, make your way to downtown Manteo's historic waterfront for the community's Fourth of July celebration. The singing of the National Anthem in front of the courthouse commences the event at 3 p.m. Then you can enjoy Fourth of July–themed contests (apple pie, wacky hat, decorated bike), sample food from vendors and wander or dance your way through downtown while listening to live music. Make your way over to Roanoke Island Festival Park (just across from the waterfront) for the free patriotic concert with the 208th Army Band, which starts at 8 p.m. followed by a fireworks display that will splash patriotic colors over Roanoke Sound.
Outer Banks Fireworks
No Fourth of July would be complete without fireworks to finish off the evening. Luckily, spending the holiday on the Outer Banks means you have numerous displays just around the corner. Here's the whole round up of Outer Banks Fireworks displays. The fireworks can be seen from miles away so you don't have to be right at the epicenter of the action to enjoy them.
Currituck Heritage Park in Corolla, dusk
Nags Head Fishing Pier, Nags Head, 9:25 p.m.
Roanoke Island Festival Park, Manteo, dusk
Avon Fishing Pier, Avon, Hatteras Island, 9:15 p.m.
Kill Devil Hill's fireworks display will be held on Friday, July 7, at dusk at Avalon Pier.
Other Events
Duck – Town Of Duck Parade
The 12th Annual Town of Duck 4th of July Parade is scheduled for Tuesday, July 4th 2017 at 9:00 a.m., immediately followed by the Community Celebration at Duck Town Park, 1200 Duck Road.
Immediately following the parade, join us at the Duck Town Park, 1200 Duck Road, for live music, cold refreshments and the awarding of the parade trophies!
The one-mile parade route is the same annually and begins at the crest of the hill on Scarborough Lane. The route follows Scarborough Lane towards the ocean, turns left onto Ocean Way, and then heads down Christopher Drive ending at Duck Road (NC 12). No part of the parade takes place on Duck Road (NC 12). For more information or to register to participate, visit townofduck.com/duck4thofjuly or call 252.255.1286 for more information.
More Information: https://www.townofduck.com/duck4th